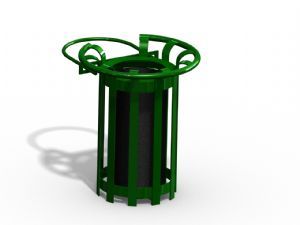 Breckenridge
(BRKTPN)
An attractive addition to the Breckenridge series is our upscale waste receptacle with optional cigarette ash urn.
This receptacle is designed to be attached to a light post. The waste recepticle featurs a hinged floor, for easy waste removal. Standard rigid plastic liner included.
For the cigarette urn option, the receptacle will accept a spun aluminum tray.
Breckenridge Waste receptacles collection combines strength, durability, comfort and versatility to complete any setting. Each piece of our Metal Site Furnishings is handcrafted, using high quality steel.