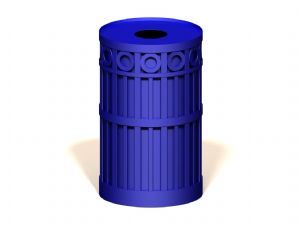 Aspen Waste Receptacle
(ASPENT32)
The Aspen trash is a beautiful new design based on a traditional look. Hidden joint welds and flat rings bring out the shape of this popular receptacle.
Each Aspen waste receptacle is handcrafted, using high quality steel. The product is then cleaned, treated, and powder coated, using the finest powder coating materials available. Feel free to ask about our wide array of colors, and very competitive lead times as well.
See also our matching Bench with back.