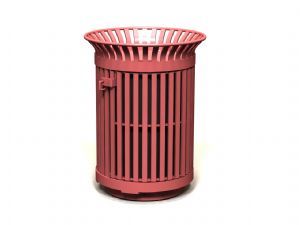 Avenue Waste Receptacle
(AVE24)
The Avenue Series of trash receptacles is very sturdy, with an antique look that works as well today as it did in the 40's. A heavy receptacle with a hidden access door for easy waste removal.
Avenue metal waste receptacles are handcrafted and powder coated using the finest powder coating materials available. High quality steel site amenities can provide the strength, flexibility and aesthetic value necessary for commercial or residential projects. Also available is a matching snuffer to complete any setting.
See also our matching Cigarette Ash Urn.