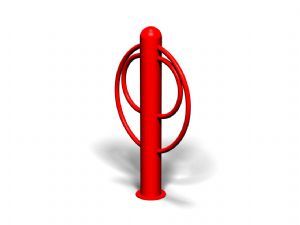 Breckenridge Series
(BRKBB)
Combining not only pedestrian and vehicle deterrents, the Windsor and Breckenridge bike bollards are a fun and colorful place to park your bike. The circular design adds a whimsical style to your site.
Bike Bollards are high quality steel site amenities. Steel bike bollards are a safety device that helps guard against theft. Metal Site Furnishings can provide the strength, flexibility and aesthetic value necessary for commercial or residential projects.
See also our matching: Planters, Table, Bench with back, Flat bench, Cigarette Ash Urn, Waste Receptacle, Tree Guard and Bike Rack.