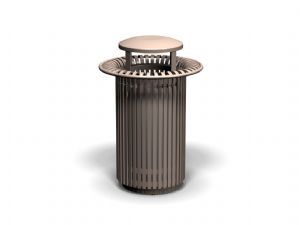 Breckenridge Series
(BRKT32)
Complimenting the Breckenridge series is our upscale waste receptacle and cigarette ash urn design. The waste recptacle features a side opening door (Models BRKT32 and BRKTA32 only) for easy waste removal and comes standard with a rigid plastic liner.
Breckenridge Waste receptacales collection combines strength, durability, comfort and versatility to complete any setting. Each piece of our Metal Site Furnishings is handcrafted, using high quality steel.
See also our matching: Planters, Table, Bench with back, Flat bench, Cigarette Ash Urn, Tree Guard, Bike Bollard and Bike Rack.